Jesse loved using the word "Unity" and I think he'd be proud of what we have accomplished and continue to do in his honor. I also like to think he'd have a good chuckle at how we have involved the Open Source Community in our work. The Mindtriggerz Project computers run Ubuntu and have Open Source educational software installed on them.
After the dedication of the Valley Park Shelter in Jesse's name, I found myself compelled to become active again in programs at the park. Jesse spent many hours there playing sports as a youngster. As a teen, he ran the concession stand while I coached and supervised various sports teams. When I was asked to help "re-spark" the Valley Park Activities Board, I gladly accepted. We have already held several meetings and are gearing up to renew programs and especially T-Ball this Spring.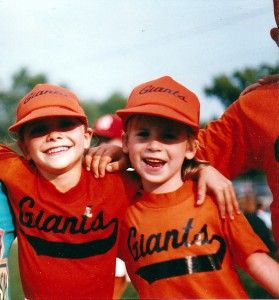 I love to tell the story of little Jesse whose big last name barely fit on the back of his tiny T-Ball uniform.
His Mom and I both have wonderful memories of Jesse's T-Ball days. There was an older, more experienced and athletically gifted player who for some reason decided to take Jesse under his wing. He encouraged, gave advice and showed such true sportsman like conduct that he was a hero among the Giants, their fans, coaches and parents. He led the league in home runs and took the team to the City Championship. I would like to again see such "community" at Valley Park. I think we will.
In another connection I feel is surely inspired by Jesse, I was fortunate to meet members of Cardinal Valley Elementary School's PTA. Jesse roamed the hallways of that school as though he owned it and was often found after hours helping in the Tech Lab. The school is undergoing a very expansive renovation but unfortunately, funds for a new playground are not in the budget. The PTA is seeking ways to raise approximately $10,000 and along with the Valley Park Activities Board, the Cardinal Valley Neighborhood Association and our Trust in Jesse's name, we hope to help them do just that.
The PTA has asked that we help promote a fundraiser to be held on December 1st at the Jesse Higginbotham Neighborhood Center. From 9am to 6pm they will be hosting "Holiday Family Portraits" (Pre-Order Form) with packages ranging from $5 to $26. We invite everyone in our CommUnity to come to the park and help with this event. It's a great way to support our young people and to inspire us all to help each other. I hope you will feel compelled to join in.
Jesse's Dad
Tweet