At the Jesse Higginbotham Technology Trust we have committed to a year of giving. Volunteering and working towards change has become a major part in my life, and it mostly started with working with the Dunbar GSA and at the Dunbar Memorial Garden. Jesse, Josh and Hannah all hoped for and worked towards creating safe and inclusive environments.
We have all worked at the garden with their shared vision in mind to create a safe space to remember and relax. This is especially important in high school, when kids are growing into their identities and dealing with peer pressure and bullying. To be able to give kids a space away from parents, and away from worry that they'll have to deal with bullying, is to give kids a place to be comfortable, grow, love, and learn from others. I've seen kids come to the garden, go through high school, and it's always inspiring to see the experiences they bring, and the unique ways they make change and continue to want to make change after they leave Dunbar.
Being back in Kentucky for graduate school, not only do I have more time to spend at the Memorial Garden, but I have also managed to find a place at two wonderful organizations at the University of Kentucky: OUTsource and the Violence, Intervention and Prevention Center. Both these organizations have agreed to help us with our upcoming donation drive benefiting The Nest Center for Women, Children and Families and Arbor Youth Services.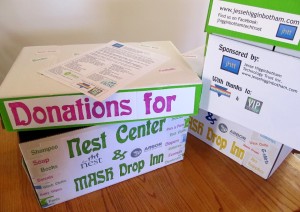 OUTsource is a resource center and safe place for LGBTQ* students at the University of Kentucky. OUTsource offers a fun, friendly environment where students don't have to worry about hate-speech, discrimination, and others kinds of bullying. In addition to being an inclusive space, the OUTsource works to improve the university's climate and culture by hosting programs and doing presentations across campus. One such program is "Question Box" in the dorms where students can anonymously ask questions dealing with homophobia, gender norms, identity, and the LGBTQ* community, which later get answered by OUTsource volunteers. The OUTsource is an empowering student-run organization that let's students take control and make change.
Violence, Intervention and Prevention Center works both to end power-based personal violence (PBPV) (sexual assault, partner violence, and stalking) on campus and as a resource for victims and survivors of violence. The VIP center is the home of the nationally known Green Dot, a program that teaches students how to step into the role of an active bystander. As bystanders, students, staff and faculty hopefully will be able to safely intervene in potentially harmful situations as well as foster an anti-violence environment on campus. It is incredible and inspiring to see an organization on campus try and approach the problem of PBPV from a proactive and positive perspective.
When you come by to drop off your donations at either OUTsource or the VIP Center, say hi and learn more about what these organizations do and what you can do to help.
To learn more about the donation drive, what The Nest and Arbor Youth Service need, and where the OUTsource and the VIP center are located, click here!
Tweet