According to The Center on Philanthropy at Indiana University (via National Philanthropic Trust), 65% of households give to charity.
Sixty-five percent sounds good, since, according to IRS data, less than a third (32.64%) of all tax returns filed with them in 2010 included itemized deductions, which is where charitable contributions deductions are taken by individuals. If more people are donating than are itemizing their deductions, this means that people don't just throw money at nonprofits for the sake of tax savings; there must be an element of philanthropy at work.
But how are those dollars contributed put to work? How do we know that the organizations we give to are actually doing with it – for the most part – what we intended?
Most, if not all, states require nonprofits to register with their attorney general's office.
Secular nonprofits are required to apply with the IRS to gain tax exempt status, and thereafter, most are required to file some type of the federal Form 990 with the IRS every year. The 990 is – while not an income tax return, per se – a document that provides some information about the activities of the nonprofit for the year.
Nonprofits have long been required to make copies of these documents available for public inspection, but in the stone-age prior to the internet, this necessitated either mailing copies out on request, or having those documents available for viewing at their main location during "normal business hours."
With the internet, it's become a lot easier to check on how donated dollars are spent. There are several websites – the most well-known are guidestar.org and charitynavigator.org — that collect tax returns of charities from the IRS, and often summarize the more donor-pertinent data from them and assign a rating to the organization in order to assist donors in making their decisions regarding where to spend their contribution dollars. One of the things that make these sites great is that they often offer users the ability to view a good deal of information about a nonprofit – free of charge! A "guest" user can view basic information about nonprofits and after creating a free account can view the federal Forms 990 filed by the organization.
But there is a downside to some of these rating sites. Because there are so many charitable organizations in existence, the smaller ones are often ignored by the major rating sites. For example, The Jesse Higginbotham Technology Trust, Inc. is not required to file the "long form," or regular Form 990, annually with the IRS; we can file a Form 990-N, or 990-EZ. For 2011, we did file the long form, but since we are not required to file it, we are not eligible to be rated by Charity Navigator.
As an accounting professional of a couple of decades at this point, until the Trust came into existence, I had no experience in accounting for or any IRS issues for charitable organizations. As recently as a year ago, I recall that GuideStar had a similar policy to CharityNavigator regarding the smaller nonprofits and "ratings", and in my research for preparing our first financial Form 990, read a how-to book that encouraged small nonprofits to go with the long form, in order to qualify for a rating on that site. A recent perusal of the GuideStar site, however, doesn't appear to mention the requirement for the long form. This may or may not be due to the higher thresholds – beginning in 2010 – allowing for the shorter-form filing, which allows organizations with $200,000 or less in annual receipts and $500,000 or less in assets to use the EZ version; nonprofits with normal annual receipts of $50,000 or less can simply file the 990-N.
So we could probably file the e-postcard (990-N) indefinitely, unless the IRS changes its rules. Will we? Probably not. While the IRS seems to be making it easier for the small nonprofits – and accountants do not come cheap, you know – we are fortunate in having a board of individuals who are dedicated to assisting their Treasurer in gathering the data needed to present accurate financial information to our donors, the IRS, and anyone else who is interested. We are fortunate in that aspect, because so many worthy causes do not have access to free labor from CPA's, seasoned bookkeepers, and otherwise well-educated and experienced people.
Jesse believed in helping others by sharing knowledge and we'd like to share some with you. It may seem daunting to someone without an accounting background to review an organizations Federal Form 990 but it's not THAT difficult. Go to Guidestar.org and sign up, sign in and search for the organization you are interested in. Once on a profile page, scroll down until you see "Forms 990 from IRS" (see our red arrow).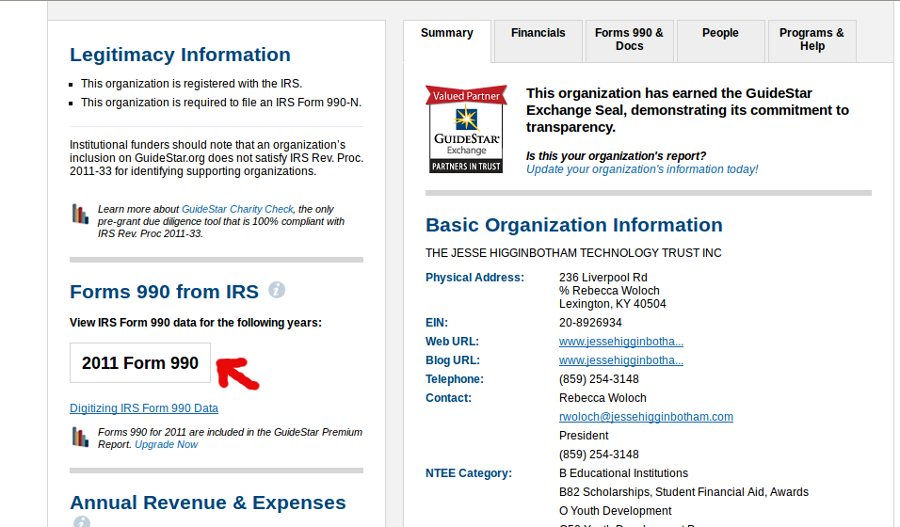 Open a current or past Form 990 in pdf and start familiarizing yourself with the layout. Generally you will find "Compensation of Officers, Directors and Highest Compensated Employees" on Page 7 and/or 8. As well, expenses to run an organizations various programs will be listed on page 2. And if you really want an in-depth accounting, you can find "Functional Expenses" on or about Page 10. Depending on the size of the nonprofit, the 990 can range in length from twenty pages upward to several hundred pages. Use the "find" option to search for specific data and don't be daunted by the volume of information. If you see an organization that raises $230,000 but then spends $100,000 to pay its staff, well, depending on you, you might want to place your dollar elsewhere.
As a donor, we encourage you to register at Guidestar.org and thoroughly research the nonprofits you are interested in helping. While you might be surprised at some of the information you find, you should be better able to determine if your hard-earned dollars are being spent in a manner that is in-keeping with your decision to donate. And remember, if a nonprofit can't tell you how they spend your money, it might be an indicator that you shouldn't give it to them.
Tweet