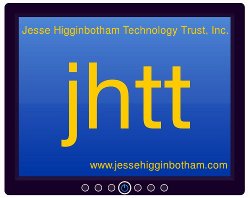 For many nonprofits, donations received during December can have a huge impact on their continued work. While the Trust has never been "keen" on actively seeking monetary contributions, we truly value and appreciate our donors! Much has been accomplished in 2012 and 2013 promises even more opportunities to help and serve our community.
While January affords a bit of breathing room, rest and relaxation, and evaluating the years accomplishments – for us it's time to move forward in our Year-Round Plan for Giving. Last month we asked our friends and supporters to help us increase the Trust's Facebook presence and in exchange for new "likes" we committed to donating desserts to area food shelters' holiday meals. Our page jumped from 53 to 144 and we provided over 400 cookies, 6 pies and several loaves of zucchini bread to the Men's and Women's Hope Centers and Lighthouse Ministries. We are also pleased to say that many of the desserts were made with locally grown ingredients – berries, zucchini and fresh pumpkin!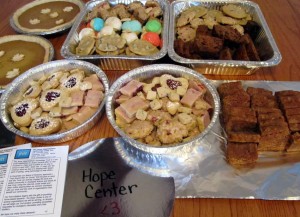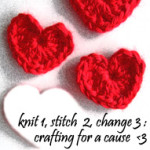 We're asking our friends and supporters to continue this effort in January as we launch our 2nd project: providing basic necessities to two  Crisis Shelters. Several "drop boxes" will be placed around the city to collect items such as soap, deodorant, toothpaste, combs, brushes, baby items (diapers, food, formula, gently used clothing), socks, tshirts, and shampoo. We'll also be soliciting our "stitching friends" to create homemade scarves, hats, mittens and wash cloths through our "Crafting for a Cause <3" events!
December found some of us receiving items we didn't really need. Perhaps a family member gifted you socks but your sock drawer is already full. Maybe Grandma gave you a hat you don't like or need. Did Mom give you MORE underwear? Consider donating these to us and we'll make sure they get to folks who need them. We'll be posting a "wish list" on our Facebook Page so please stop by and see what you can do to help others. We've aligned with Arbor Youth Services' MASH Drop Inn (serving children 0-17 years old who are runaway, homeless, or otherwise in crisis) and The Nest Center for Women, Children and Families (providing high quality, comprehensive services to women and families in crisis while working to prevent child abuse and neglect).  Please take some time to visit their websites and learn more about their work!
So do we stop giving now that the gifting season is over? Nope. Will you stop giving because the gifting season is over? We sure hope not. Join us. Come stitch with us. Share our page. Start your own initiative. There's always good work to be done, work that serves those in need and those less fortunate, work that will make you feel good while doing it. Jesse would like that. <3
The primary mission of the Jesse Higginbotham Technology Trust is to sponsor and support work in keeping with Jesse's spirit of helping others. Please continue to follow us on Facebook and share with others who are involved in and concerned with community service actions, ideas and altruism
Tweet