On Saturday, May 13th the Trust will once again host our annual Native Plant Sale at Dunbar High School.  This will be our 8th sale and most likely our best – over time we've learned so much not only about native plants but about propagating, tending, best potting practices and even a little about what Jesse called "shameless self-promotion."
The Dunbar Memorial Garden is rich with natives, our best "guesstimate" is that we have over 60 different species of plants from trees to shrubs, flowers to grasses and this year we are focusing on two important themes: Monarch Butterflies and native pollinators.
A little about our native Swamp Milkweed – it is home-grown, chemical free, "organic" milkweed: the plants are 2 years old with 2, 3, or 4 stems in each pot. It takes a lot of time, luck, wishful thinking and patience to grow perennial milkweed from seed! Seed was gathered as it matured in the Fall of 2015 then immediately "planted" in a protected area of the garden and lightly mulched with dried shredded leaves. Once it sprouted in the Spring and after developing two true sets of leaves the plants were carefully relocated to give them each plenty of room to develop. Last Fall (in October of 2016) those plants were then carefully lifted from the soil of the garden and potted up in tall, deep pots. The pots were then "planted" in a new protected area and left to over winter. This Spring (thankfully!) all the plants emerged and have been growing strong.  Prior to the plant sale they are inspected then re-potted into larger containers.  They look amazing!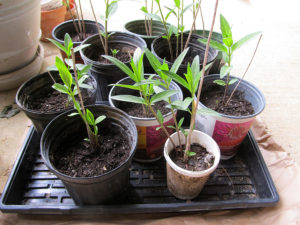 The "very dirty" white pot on the right is the pot-in-ground pot that kept the milkweed safe all winter!
In our next blog post tomorrow, we'll talk about our seed grown annual Tropical Milkweed – an excellent cutting milkweed for raising Monarch caterpillars in captivity. We'll have two varieties of that at our Plant Sale on May 13th.
We'll leave you with a beautiful photo of  Swamp Milkweed in bloom taken from the Dunbar Memorial Garden last summer: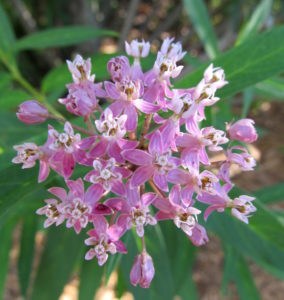 Tweet