We like to say "If you plant it, they will come" and we've planted a lot of Milkweed (the larval host plant for Danaus Plexippus) at various locations around our Lexington Kentucky community.
One of our favorite ways to introduce youngsters to the beauty and scientific study of the Monarch is by donating a chrysalis to a classroom hoping ultimately to inspire a new generation of butterfly enthusiasts and conservationists. While we have been quietly doing this for several years, it is in 2018 that our efforts have been concentrated: after raising the caterpillars from our Monarch Waystations we place a single chrysalis in a clear plastic jar, include a set of instructions then pass them around. This year, we've sent chrysalises (chrysalides) to The Learning Adventure, Cardinal Valley Elementary, James Lane Allen Elementary and Mary Queen of the Holy Rosary School.
And this year we went a step further by pairing the chrysalis with a variety of books (and puzzles and magnifying glasses) for different age and reading levels all with the theme of Monarchs and butterflies.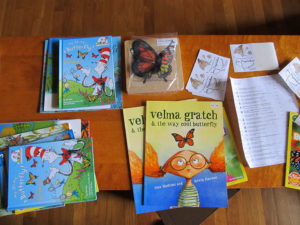 Before sharing photos and videos of these youngsters and their experiences, an update on our school Monarch Waystations:
In July of 2018 we installed several planter barrels of Milkweed at Mary Queen school where a lovely Memorial Garden had been planted for a former teacher. The area already included a very nice variety of native plants and it is literally a "stones throw" from a Riparian Buffer Project where we found several nice stands of Common Milkweed (Asclepias syriaca). In fact, the day we met with the Kindergarten Teacher and Principal to discuss our work a Monarch butterfly flew by us. A good omen for sure!
When we returned to the school in mid-August to donate a chrysalis and books we were happily surprised to find THREE caterpillars munching away in the barrels of milkweed.
The Trust completed paperwork and the Mary Queen Kinder Garden Monarch Waystation becomes our SIXTH certified waystation to date.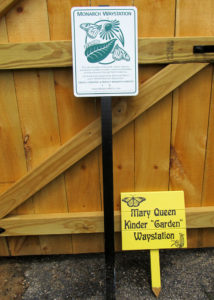 At Cardinal Valley Elementary's "Monarch Valley – Valle de las monarcas" this years' Monarch caterpillar population is at record numbers! We also installed a barrel of dill, parsley and fennel in July that hosted several beautiful Black Swallowtail caterpillars.
All the way to Kitley Elementary in Indianapolis, our favorite first grade teacher and long- time Trust volunteer, Sarah Weck has renewed a much-neglected school garden and turned it into a butterfly sanctuary. Her diligence in adding host plants for a variety of butterflies (the Trust donated native plants) has rewarded her with great study opportunities for her students and herself!
And at our favorite garden in the world, the Dunbar Memorial Garden, the Monarch population thrives – along with fritillaries, sulphurs, swallowtails, questions marks, snout nosed, hairstreaks and other butterflies we have yet to identify. But it is there that this all had its beginning: from one garden sprouted many gardens and many more are to come.
This Fall we will be installing our SEVENTH Native Plant Garden and Monarch Waystation at the Women's Hope Center conveniently located right here in Jesse's neighborhood. Which is why we do what we do, for Jesse <3
Enough with the words, on with the pics and videos:
Here's Jesse's dad releasing a newly "hatched" Monarch at James Lane Allen Elementary. This has got to be the most well-handled, patient Monarch ever!
Some excitement from Kitley: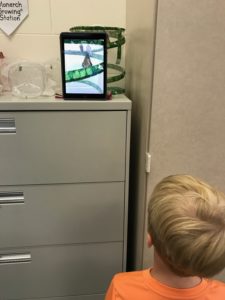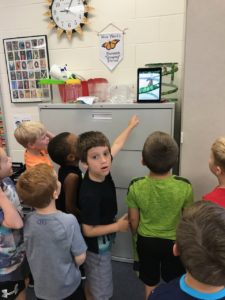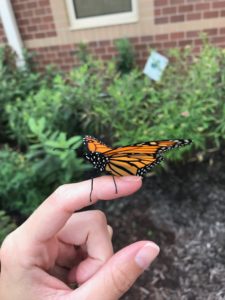 A very sweet pic from our favorite pre-schooler at the Learning Adventure: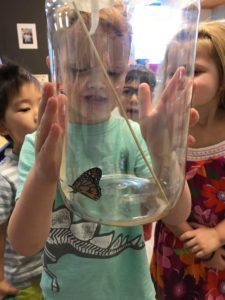 Some serious observations by the young students at Mary Queen School: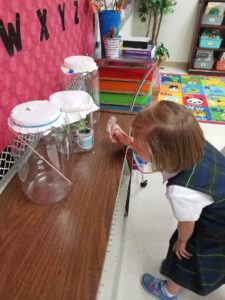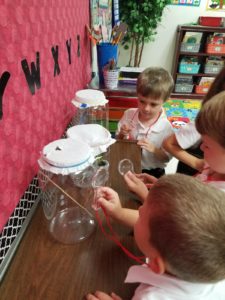 Cats at Cardinal Valley Elementary: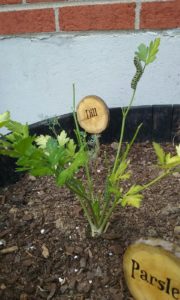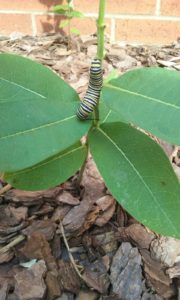 And last but not least a wonderful student drawing of a Monarch caterpillar just finishing its chrysalis: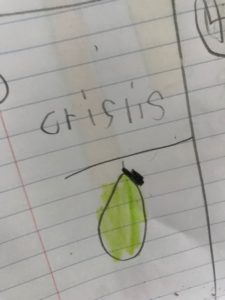 Tweet