At our recent Board of Directors Meeting it was decided that along with the current projects we do in honor of Jesse, we should also expand our reach by doing more things in keeping with his spirit of helping others in his community.
Several members volunteered to organize a "Year-Round Plan For Giving" – it is an idea in progress but will begin this month with a bake-off to provide area homeless shelters with homemade desserts for their holiday meals. We'll be promoting this event by asking for "likes" on the Jesse Higginbotham Technology Trust's Facebook Page . For every 10 likes we receive we will donate a homemade treat to one of several area organizations including (but not limited to) the Hope Center, the Women's Hope Center and Lighthouse Missions.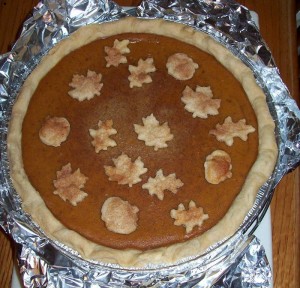 In order to increase awareness of our work, our goal is to surpass our current Facebook presence from the 53 likes we now have on our page to well over 100! We want others to learn about our projects and potentially help us with donations of technology, financial support, volunteerism, and most importantly sharing our mission and purpose with others in the Lexington area as well as the global community of which Jesse was so large a presence.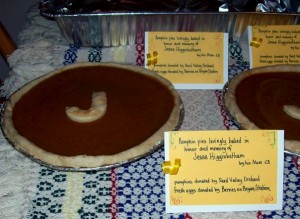 In 2009, with assistance from friends who supplied locally grown pumpkins, farm-fresh organic eggs and baking skills, we personally donated over 100 homemade pumpkin pies for holiday meals to a variety of Lexington Shelters. This is the inspiration for our latest endeavor: we need your help and support.
We believe that even in seemingly small ways, we can all work together and do something "big." To help, simply like our page and share it with others: invite your friends, co-workers, organizations, associates and businesses to join us and then ask them to do the same. An act of giving just by clicking – Jesse would love that! His beloved technology and social networking being used to help someone less fortunate – truly "giving" during the giving season.
We'll start counting at 53 and even if we don't reach 100, we'll be baking pies, cookies, cakes and breads for our local shelters – and looking for more ways to do good things in honor of Jesse the whole year-round.
Tweet