We had a slow couple of weeks at Mindtriggerz last month as far as new families go; probably due to the cold weather.  But we're seeing an increase in activity in February and are excited to reach our goal of 100 free computers before the end of the season in May!
Just yesterday we gave our first ever "Mindtriggerz Laptop" and are so excited to help a deserving young college student pursue a degree in nursing. This is Maria – and check out her shiny new Ubuntu computer!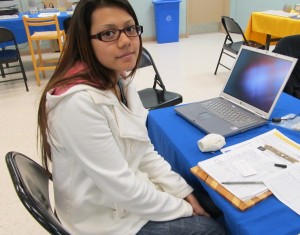 A friendly reminder to future volunteers and clients: The Jesse Higginbotham Neighborhood Center is warm and toasty!  We've been able to use the extra down time to discuss important things related to the trust like transparency and accountability.  We've talked about Jesse's vision of technology being available to everybody and what all the Mindtriggerz project has done to help realize this vision.  We've been able to discuss at length  how we can improve what we already do and opportunities in the future to do more.  And of course we've been able to joke and laugh with each other 🙂 On a personal note it's been great hanging out with Jesse's parents and friends.  I've never in my life met such a kind and diverse hard working group of people.
Great season so far! Come by and see us Saturday mornings from 10am to 2pm at the Jesse Higginbotham Neighborhood Center.
P.S. Like us on Facebook at www.facebook.com/jhigginbothamtechtrust and follow us on Twitter at @JHTechTrust
<3 Joyce

Tweet