We could not have done this without you.
Today we hosted our "3rd annual Native plant sale" at Dunbar and raised just under $800 ($770 to be exact) – our most successful Garden event ever. Between the high-fives, group hugs and UNO games, our volunteer force of a dozen of the best, brightest and hardest working assisted buyers with selection, check-out and carrying boxes of plants. So our first "thank you" goes to them. As Jesse would say: "You r0x0rz"
Set-up began at 9:15am – tables positioned, plants displayed as our first wave of customers arrived EARLY. In our first hour, we sold well over half of the days proceeds. It was intense. And rather incredible.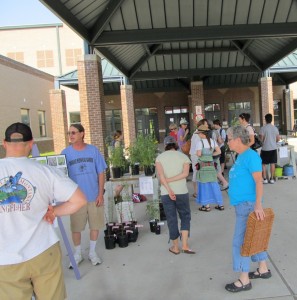 After the initial "rush" our buyers came in smaller groups but continued to keep us all moving – and talking – and talking native plants. The False Blue Indigo sold out fast, as did the Ironweed and Joe-Pye (thank you to the gentleman who knew more about this fabulous plant than I do) and by days' end even our Rattlesnake Masters were all off to new homes around Lexington.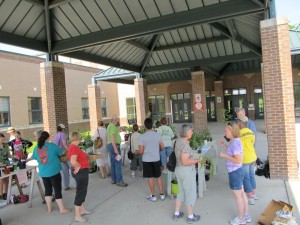 We watched folks exchange hugs, gardening tips and business cards – and at the end of the day, managed to send a few plants home with our volunteers as well. And, to top the day off, we had a visit from Dunbar's Beta Club sponsor teacher – her students who won a $500 grant will be purchasing 5 new picnic tables to install at the Memorial Garden. More students will be able to enjoy the garden at lunch, more students will be able to learn, study and work with us as we continue this project instigated by Jesse and Hannah and Josh's friends – to celebrate life with a labor of love.
How cool is that?
Thank you Miranda, Sarah, Katelyn and Lindsay. Thank you Jaz, James, Josh and Katie. Thank you Taylor and Satya and the young man whose name I missed in all the activity. Thank you Walker, Mrs. Wiley, Katherine and Lana. Thank you to Jesse's dad and his best friend Jon.
And a million thanks to those who came out to support our work and gave our native plants new homes. <3
Tweet