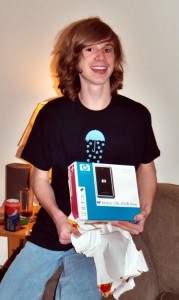 As we enter the gifting season, we want to remind our friends and supporters that working computers and peripherals are tax-deductible when donated to the Jesse Higginbotham Technology Trust, Inc.
CPU's with a minimum Pentium 4 processor, LCD monitors, speakers, keyboards, mice, power strips and surge protectors may be dropped off any Saturday through May from 10am to 2pm at the Jesse Higginbotham Neighborhood Center located at Valley Park (2700 Cambridge Drive, Lexington, KY 40504). You may also contact us via email or phone – "Contact Us" and we can arrange a pickup.
Your donation helps us help deserving children by giving them a gift that they could not otherwise afford. This also keeps Lexington's excellent E-Cycling program from disposing of working technology that can in fact have a "second life." Additionally, since the E-Cycle Center only accepts computers from residents (they do NOT accept items from businesses, including home businesses, or not-for-profit organizations, such as churches or schools) donating your working systems to the Mindtriggerz Project is an excellent option for businesses or organizations whose technology might otherwise end up in a landfill.
You and/or your organization or business can rest assured that no information on your computer's hard drive will be compromised – the installation of the Ubuntu Operating System (which is performed immediately upon receipt) removes all data and creates a "new" system. In the past we have received computer donations from a wide-variety of businesses and government agencies as well as many individuals. We want you to feel not only good about your donation but also safe in doing so. Please feel free to contact us if you have any questions or concerns.
Give your old computer a second life and give a child a gift of what we so often take for granted: technology.
Learn more about the Mindtriggerz Project
Tweet