Formerly the "Valley Park Shelter"
On Saturday, October 6th in conjunction with the annual opening of the Mindtriggerz Project Training Lab at the Valley Park shelter, the Trust hosted its fall picnic. We were honored to have in attendance members of our City Government who coordinated a dedication ceremony in honor of Jesse. 11th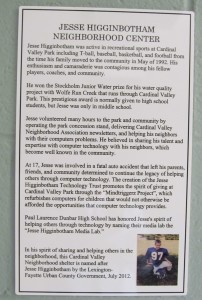 District Council Member Peggy Henson, Deputy Director of Parks and Recreation Chris Cooperrider and the Trusts Director of Communications (and Jesse's best friend) Jon Jones introduced the "Jesse Higginbotham Neighborhood Center." Outdoor signs have been installed and an informational plaque mounted inside the Center.
The concept for the dedication had been in place for several years. Our former District Council Member, Richard Moloney (now Chief Administrative Officer of the Lexington-Urban Fayette County Government) suggested it immediately after learning of Jesse's accident. We are thankful for the work he did and the work that both Peggy and Chris continued in order to bring this idea to reality.
The picnic was a great success with Mindtriggerz Project families past and present in attendance along with friends and supporters of our continued work. Jesse's dad was also asked to serve on the Valley Park Activities Board to help rejuvenate the sports activities Jesse was so involved in as a youth.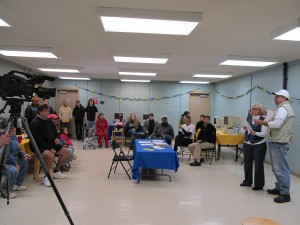 The Mindtriggerz Project Training Lab is open at the Neighborhood Center each Saturday from October through May from 10am to 2pm. Please feel free to drop by and see our work in action. We continue collaborating with the Community Action Council and Cardinal Valley Elementary School to seek out and train low-income families who do not currently have a computer in their home. For more information on the purpose of our project, please visit www.jessehigginbotham.com/mindtriggerz.html. Additionally, financial contributions as well as donations of working computers (Pentium 4 or higher) and components are very much appreciated. We encourage our community to help us help our children cross the "digital divide."
The primary mission of the Jesse Higginbotham Technology Trust is to sponsor and support work in keeping with Jesse's spirit of helping others. Please follow us on Facebook: http://www.facebook.com/jhigginbothamtechtrust and join the Dunbar Memorial Garden group: http://www.facebook.com/groups/dunbargarden. We encourage you to share our projects and mission with friends, family, coworkers and businesses as we continue work towards Jesse's goals of equal access to technology and building a better community by helping others.
Tweet